In the heart of the Adamello Brenta National Park 3.2 km from town Pra de la Casa
is surrounded by nature

The guest house, Pra de la Casa is a structure with 22 beds, divided into six rooms of which five are quadruple and one double room with ensuite.
Pra de la Casa is situated in the Adamello Brenta National Park, 3.2 km from S.Antonio di Mavignola and it is 9 kilometers from Pinzolo and 9km from Madonna di Campiglio.
It is reached via a mountain road, that when it is snowing, it is regularly cleaned. The closest ski lifts are 500 meters from the house: It is the system of connection between Pinzolo and Madonna di Campiglio at Plaza locality. When the Plaza facility is not active, to reach the ski lift you must drive 9km towards Pinzolo or Madonna di Campiglio.
The guest house is open all year round and it lends itself to Alpine skiing as well as many other activities: in winter, snow shoe hiking excursions, ice climbing, cross country skiing, ski touring, ice skating...
During the summer excursions in the Adamello Brenta National Park, climbing, rock climbing, hiking, mountain biking etc...
The guest room, Pra de la Casa is particularly suited for groups that wish to spend a holiday together and in total tranquility.
It has ski storage and a dryer for boots.
In the leisure room there is a pool table and a football table.
There is no television.
Free Wi Fi connection in the common areas.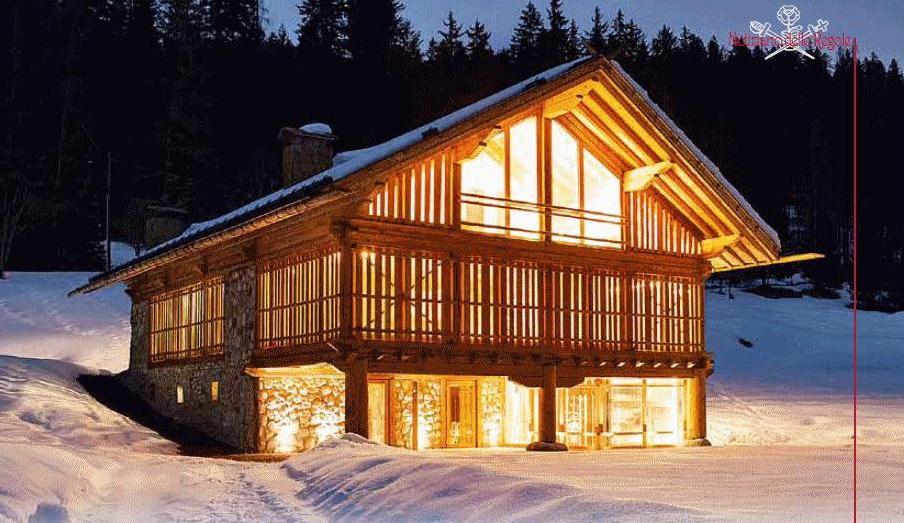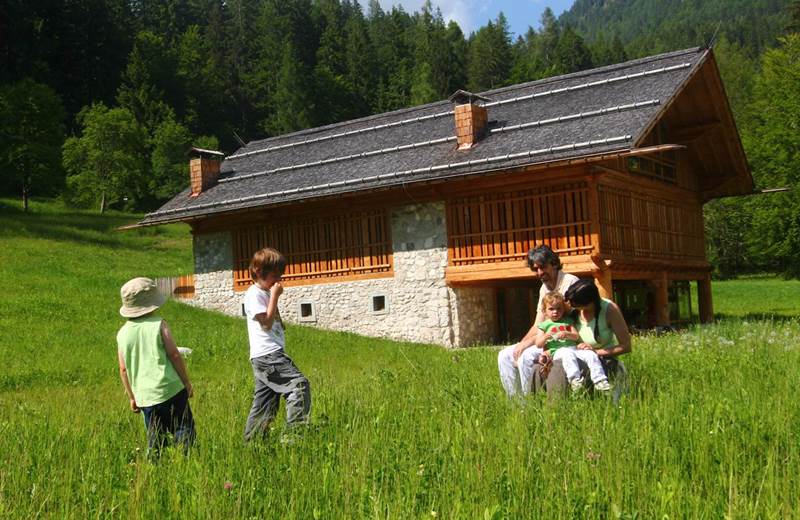 The Rooms
Pra de la Casa has 22 beds, 5 quadruple rooms and one double room (that can become quadruple with a sofa bed).
The master bedroom (pictures above) is wide and has a large window that overlooks the Brenta Dolomites.
The quadruple rooms are on two levels, above there is the double beds, and under there are bunk beds. All the rooms have a bathroom with a shower, hair dryer, towels, soap and shampoo.
A House for Groups
Pra de la Casa is well suited to people who want to share a holiday together and want to have exclusive use of the holiday home.
We offer the possibility to book the entire house.
To groups made up of 18 - 22 people, we give the whole house, with all of available space.
A reading and games room, breakfast and dinner room.
Therefore we will be able to agree to an exclusive menu for the entire week.
AT 500 Meters From the Ski Lift
Pra de la casa is situated at 500 meters from the Plaza ski lift connection between Pinzolo and Madonna di Campiglio.
If the connection is working you have direct access from the Plaza Station. Otherwise you must drive the 9.2 kilometers to reach Madonna di Campiglio or Pinzolo.
A Holiday Home for all Seasons
Not only skiing at Pra de la casa. In winter together with alpine skiing we organise excursions with Alpine Guides with Alpine Skiing or snow shoeing and ice climbing courses.
For lovers of the summer in addition to trips to the Adamello Brenta National Park, there are climbing courses, climbing with Alpine Guides, high altitude trekking, also paragliding, canyoning.
For mountain bike lovers we organise guided excursions on the beautiful Brenta Dolomites Bike, a ring of 178 kilometres around the Brenta Dolomites.
For photographic enthusiasts, we have a professional photographer that will bring you on a photo trekking experience, and lot's more...